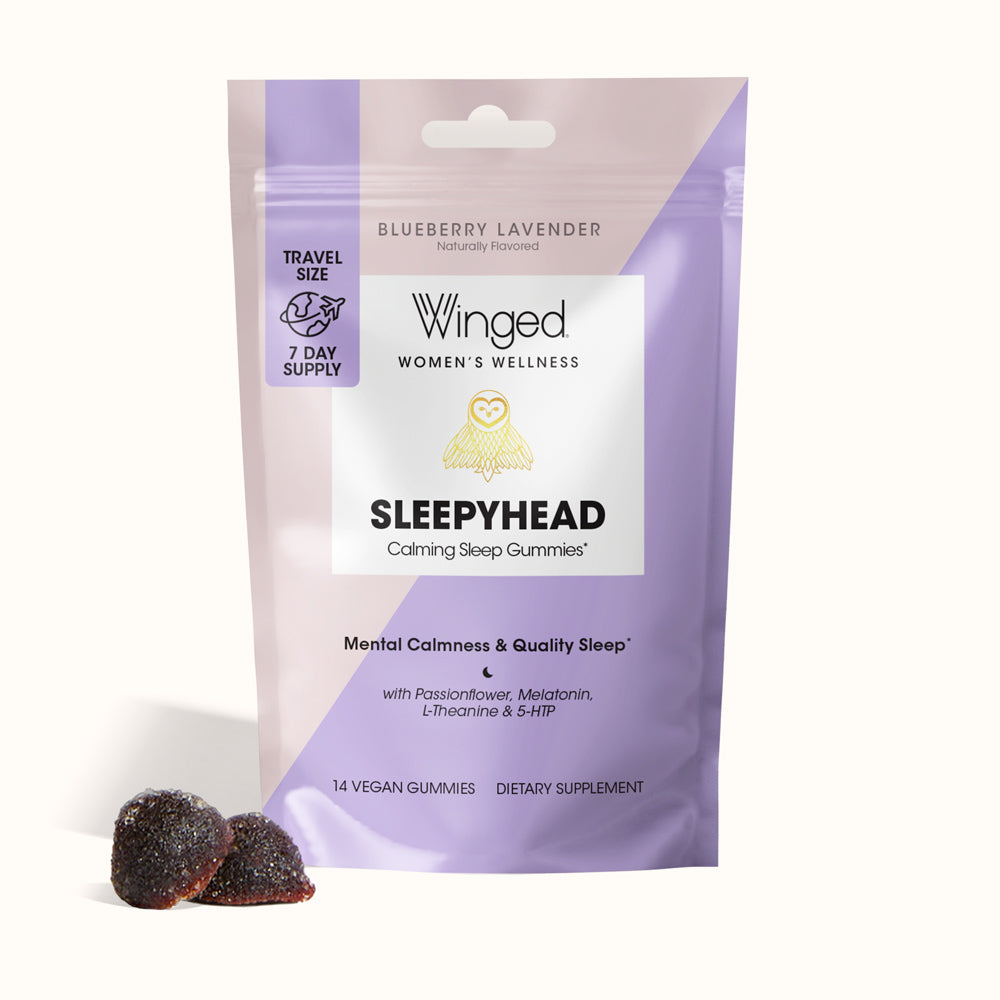 Sleepyhead Sleep Support Gummies- Travel Packs
travel size CBD-free sleep support formula to gently nudge you to sleep
130 Reviews
Based on 130 reviews
Whether it's caffeine, anxious thoughts or an issue with a healthy sleep/wake cycle, Sleepyhead's comprehensive formula helps banish sleepless nights for good.
The sleep hormone Melatonin teams up with mildly calming herbs Passionflower and Jujube to help gently nudge you to sleep.. Lemon Balm is added to quiet the mind and reduce anxiousness, so racing thoughts won't disrupt your slumber..
Good sleep isn't only about how long you sleep, it's about how well you sleep too. Three sleep support nutrients - L-Theanine, 5-HTP and GABA - support deep sleep, longer stages of REM sleep and Alpha brainwaves during sleep to improve the quality of sleep you get each night. Chaste Tree also protects against hormonal swings that can can occur during the night and interrupt the sleep cycle.
Formulated by a clinical herbalist, Sleepyhead will not cause morning grogginess, dependency or unwanted side effects. Harsh herbal sedatives like Valerian are avoided in the formula to avoid next day grogginess.
Ingredients: L-Theanine, GABA, Passionflower 10:1 Extract, Lemon Balm 4:1 Extract (leaf), Jujube 6:1 Extract, Chaste Tree Berry 2:1 Extract (Vitex), 5-HTP, Melatonin
Other Ingredients: Organic Cane Sugar, Organic Tapioca Syrup, Lactic Acid, Pectin, Citric Acid, Natural Flavors (Blueberry & Lavender), Natural Color, Sodium Citrate and Stevia.
Size: 14 Gummies per pack (7 Servings)
Take 2 gummies nightly, 30-60 minutes before bedtime.
An additional 1-2 gummies can be taken, if needed.
Take nightly for at least 30-days for full benefits. Sleepyhead is safe for continued, daily use.