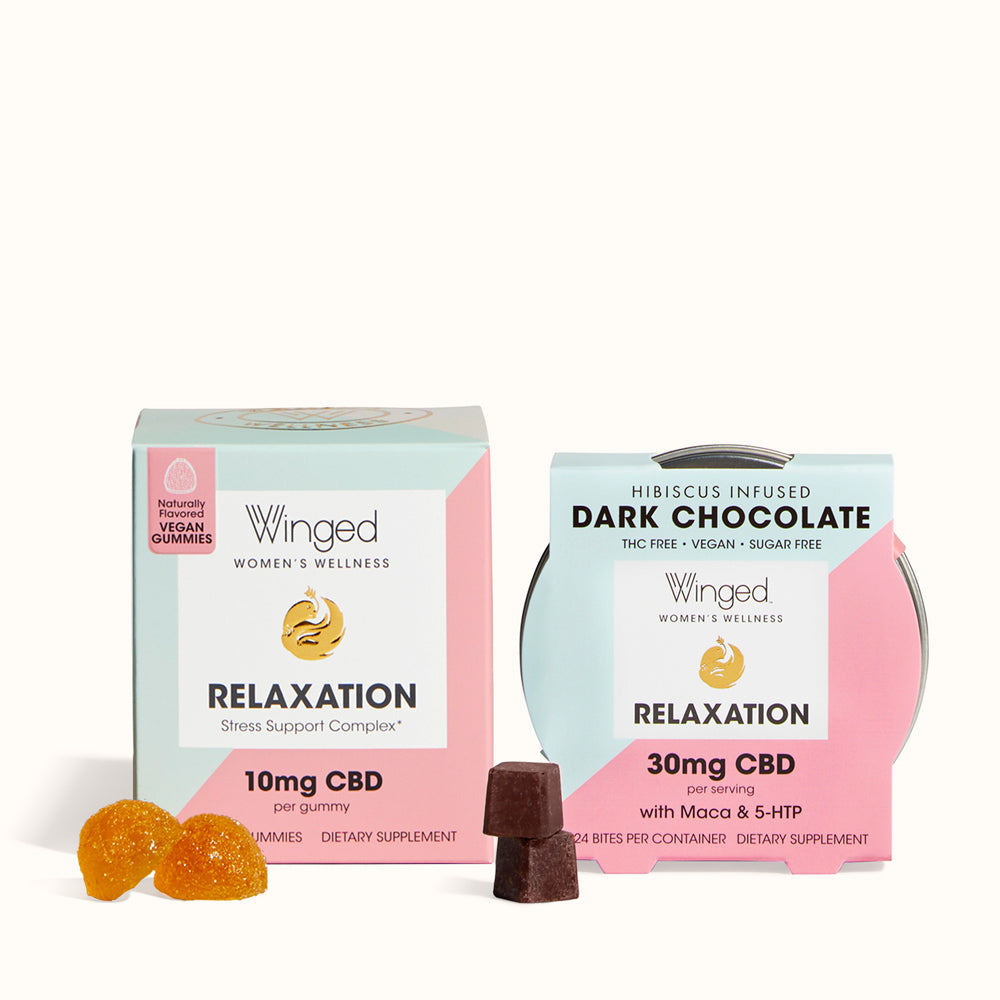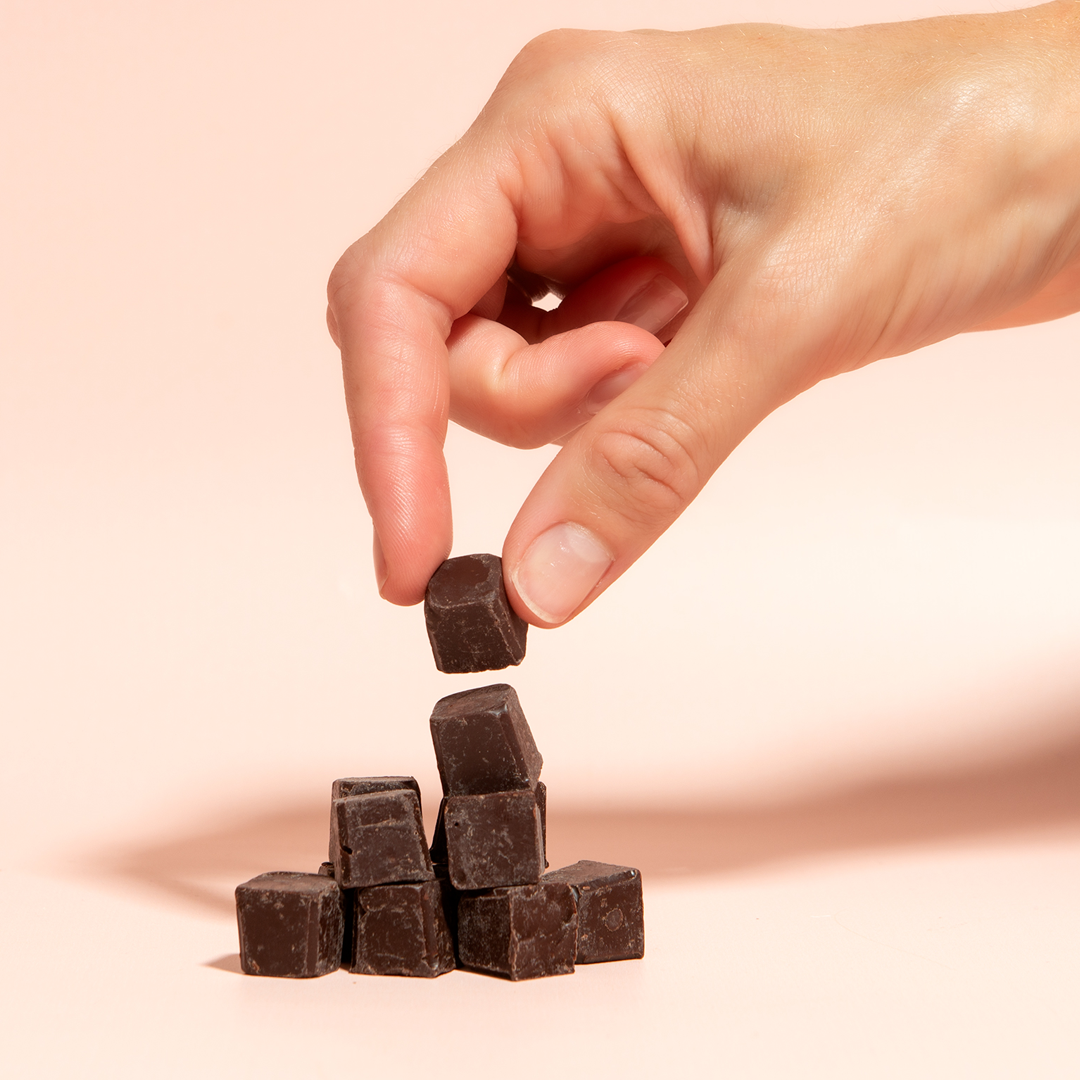 Relaxation Bundle
the ultimate bundle for relaxation
356 Reviews
Based on 356 reviews
Relaxation Gummies
Stressed? Overwhelmed? Uniquely formulated for women, Relaxation gummies contain a powerful stress support formula that promotes good vibes and deep breaths. 
Included in the formula is CBD (10mg per gummy) sourced from organically grown full spectrum hemp extract that helps minimize stress hormones like cortisol that course through your veins when life becomes too intense and overwhelming.
Female-specific Evening Primrose Oil supports balanced hormonal levels to even any hormone-related ups and downs we can feel throughout the day.
Lemon Balm has been used for centuries by women to support a positive mood and quell anxiousness or irritability, while Chamomile is a gentle herb used for both mental and physical relaxation. L-Theanine, a naturally occurring amino acid known for "wakeful mental relaxation", helps take the edge off while allowing you to focus.* 
Relaxation Chocolates
Relaxation Chocolates are a delicious, vegan and sugar-free dark chocolate bite that help take the edge off anytime life's stresses get to be too much.
Crafted by a 4th generation master chocolatier, each bite contains certified organic cacao ethically sourced from a female run co-op farm. Organic CBD is sourced from broad spectrum hemp extract to help minimize the feelings of stress quickly and effectively.
Maca, a female-specific adaptogen grown in the mountains of Peru, nourishes glands throughout the body responsible for hormone production and improves our mood and stress response.
Finally, the formula includes an effective dose of 5-HTP, an amino acid precursor to serotonin, the brain's "happy" neurotransmitter that is linked to feelings of wellbeing and a positive mood.
Hibiscus flower petal extract adds antioxidant protection and a pleasant, floral tang to each bite.
Relaxation Gummies
Ingredients: Hemp Extract (aerial parts) (Cannabis sativa L.) (standardized for 10mg cannabidiol [CBD]), Evening Primrose Oil (Oenothera biennis) (seed), Chamomile 1:3 Extract (flower) (Matricaria chamomilla), Lemon Balm 1:2 Extract (Melissa officinalis), L-Theanine.
Other Ingredients: Cane Sugar, Tapioca Syrup, Water, Natural Flavors, Pectin, Olive Oil, Malic Acid, Sodium Citrate Dihydrate, Citric Acid, Organic Fruit and Vegetable Juice (color).
Contains hemp-derived CBD with less than 0.3% THC.
Relaxation Chocolates
Ingredients: Organic Hemp Extract (aerial parts) (Cannabis sativa L.) [standardized for 30mg cannabidiol (CBD)], Maca (root) (Lepidium meyenii), 5-HTP (L-5-Hydroxytryptophan) (from Griffonia simplicifonia seed extract), Hibiscus (flower) (Hibiscus rosa-sinensis).
Other Ingredients: Inulin, Organic Cocoa Nibs, Cocoa Butter, Organic Erythritol, Organic Sunflower Lecithin, Organic Hemp Extract, Vanilla, Monkfruit.
Contains: Coconut. 
Contains hemp-derived CBD with less than 0.3% THC.
Size: 1 Bottle of 30 Gummies (30 Servings), 1 Canister of 24 chocolates (12 servings)
Take 1 gummy or chocolate when stressful situations arise.
Both chocolates & gummies can be taken preventatively to help support a healthy stress response. (Bonus: both serve as a tasty treat!)
Take daily for at least 30 days for maximum relaxation-inducing benefits.