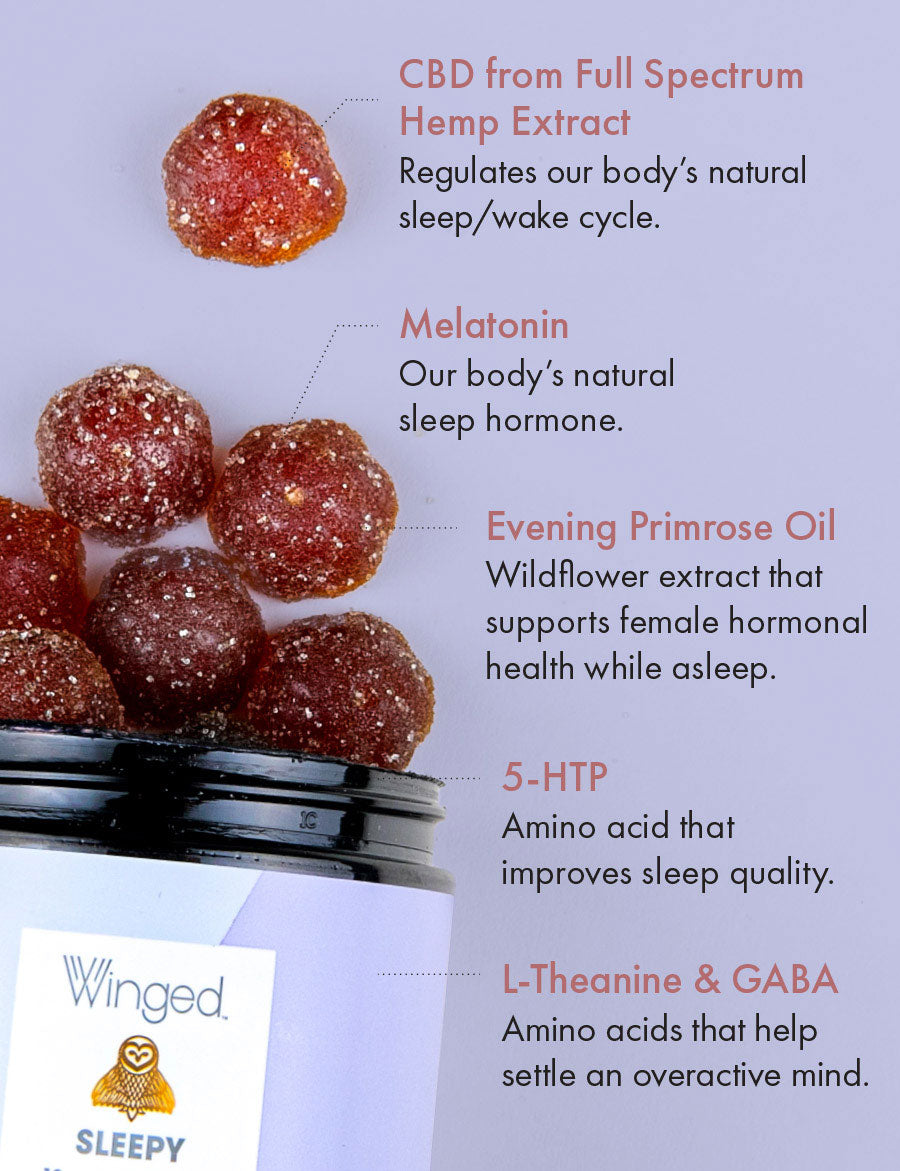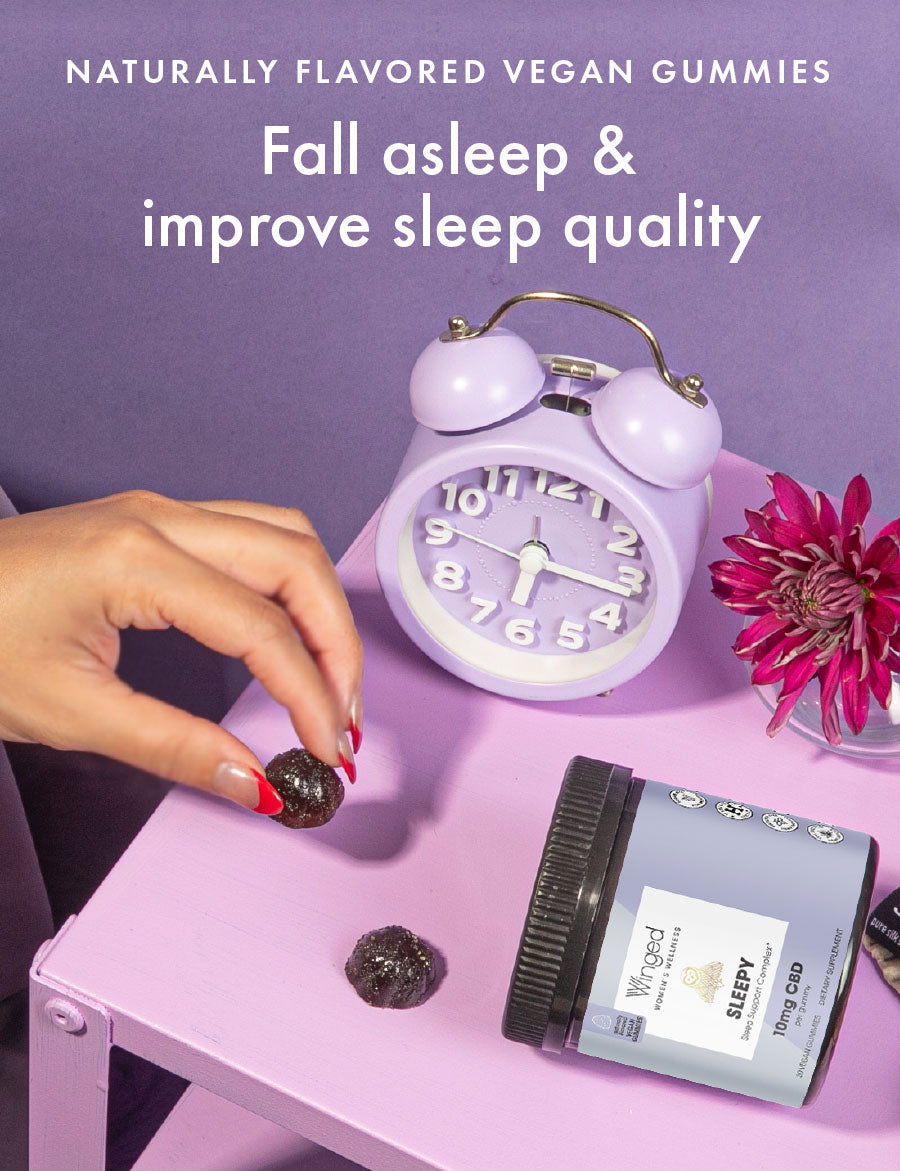 3-Pack Sleepy CBD Gummies
sleep support formula to gently nudge you to sleep
594 Reviews
Based on 594 reviews
Sleepy is a nighttime solution for banishing sleepless nights for good. It is a delicious, vegan gummy designed to help you fall asleep and improve the depth and duration of sleep, so you can wake up feeling refreshed and recharged.
The Endocannabinoid System (ECS) is a vital system within our bodies, just like our Nervous or Endocrine Systems. The ECS has many functions, but one of its main jobs is to regulate our Circadian Rhythm that governs our sleep/wake cycle every day. CBD from full-spectrum hemp extract nourishes our ECS so it can do its job, allowing us to fall asleep when we're supposed to and experience quality rest.
Sleepy Gummies contain a low dose of Melatonin (3mg) to gently nudge us to sleep. The main concern with Melatonin is the morning "hangover" making someone feel groggy or sluggish. However, these side effects are usually experienced because too much Melatonin is taken (above 4-5mg, depending on someone's sensitivity). High-dose Melatonin stays in our systems all night and into the morning, which is when Melatonin should be at its lowest.. Low-dose Melatonin taken 30-60 minutes before bed is still effective to help us fall asleep, but clears out of our systems throughout the night, so we wake up feeling refreshed.
Also included in Sleepy are the amino acids GABA and 5-HTP that work synergistically to support sleep-enhancing neurotransmitter production, which helps put the brakes on the brain and quiet a racing mind. L-Theanine is included to enhance feelings of calm and support Alpha brain waves during REM sleep, which is associated with better sleep quality. Evening Primrose Oil is a superstar when it comes to women's hormonal health and protects against hormonal swings that can interrupt sleep cycles.
Note: Our Sleepy gummies are no longer dusted with sugar and look a little different now! All other elements of their formula remains the same so you can continue to enjoy the benefits you know and love, without the added sugar. We love the new Sleepy and think you will, too!
*This product comes at a special value price and cannot be combined with any other discounts.
**Now with 33% Less Added Sugar**
We've heard your feedback loud and clear! For over a year we've worked to reduce the amount of added sugar in the Sleepy gummy formula. You'll notice that we switched from a granulated sugar coating to a light dusting of tapioca starch. By doing so, we were happy to announce that we've reduced the added sugars by 33%! We have also switched to a new gummy shape, which helps to keep the gummies from sticking together more effectively. No other changes have been made to our beloved formula. The result is the same efficacious and delicious Sleep treat you have come to love - but now with 33% less added sugar!
Ingredients: Hemp Extract (aerial parts) (Cannabis sativa L.) (standardized for 10mg cannabidiol [CBD]), Evening Primrose Oil (Oenothera biennis) (seed), 5-HTP (L-5-Hydroxytryptophan) (from Griffonia simplicifonia seed extract), GABA (Gamma-aminobutyric acid), L-Theanine, Melatonin.
Other Ingredients: Cane Sugar, Tapioca Syrup, Water, Natural Flavors, Pectin, Citric Acid, and Olive Oil.
Size: 90 Gummies (90 Servings)
Take one gummy 30-60 minutes before bed.
A second gummy can be taken, if needed.
Make Sleepy a part of your nightly bedtime ritual, it's safe for nightly use.