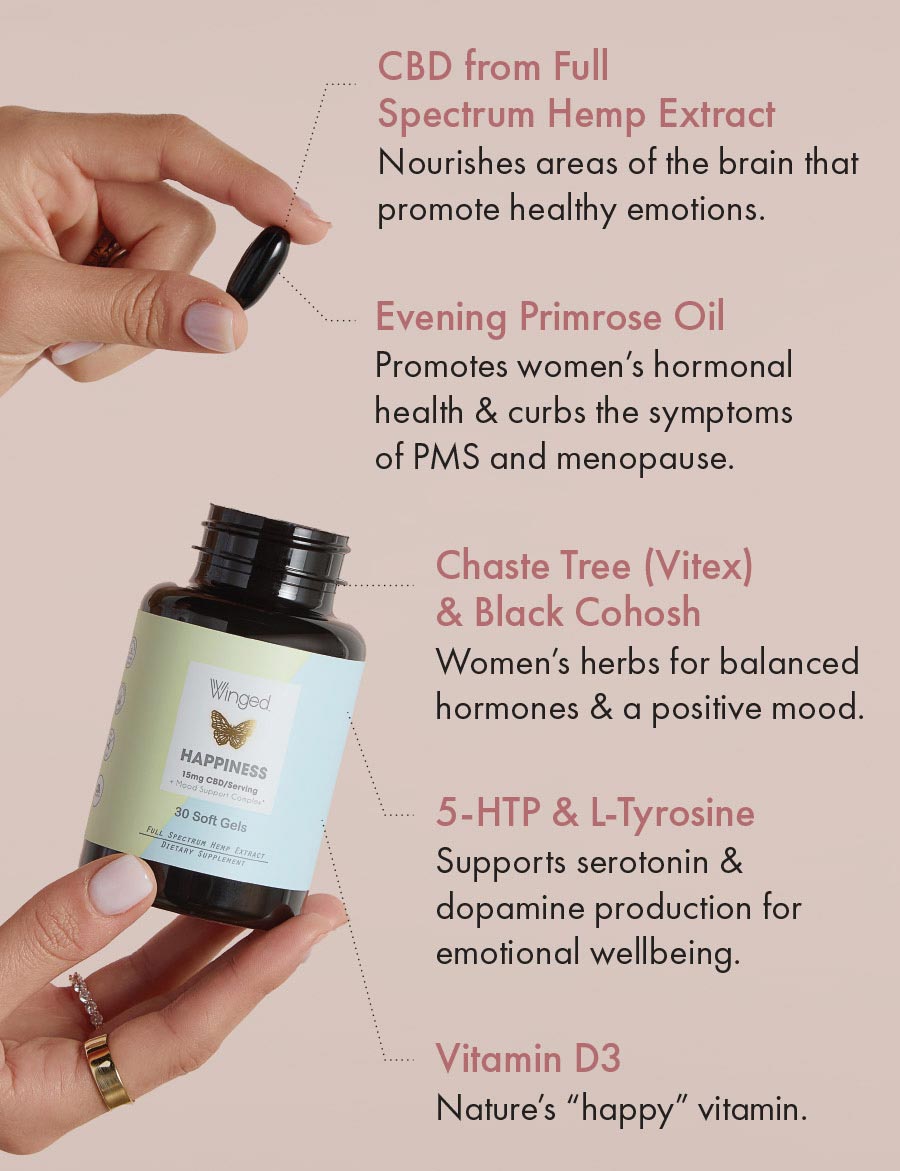 3-Pack Happiness CBD Soft Gels
daily mood support
162 Reviews
Based on 162 reviews
Happiness is a powerful mood support supplement to boost spirits in times of feeling anxious, irritable or overwhelmed. The Happiness formula is specifically tailored to a woman's body to support her during her cycle as well as provide post-menopausal support.
25mg of CBD from organic, full spectrum hemp extract helps regulate emotional wellbeing.
A super blend of Chaste Tree, Black Cohosh and Evening Primrose Oil work together to help with progesterone and estrogen balancing throughout a woman's cycle.
5-HTP & L-Tyrosine support the brain's production of neurotransmitters serotonin and dopamine, which are responsible for helping you feel enjoyment, satisfaction, wellbeing and positivity.
Vitamin D, nature's "happy vitamin", is included to lessen intensity of PMS. Vitamin D deficiency has been shown to lower one's mood.
*This product comes at a special value price and cannot be combined with any other discounts.
Active ingredients: Organic Broad Spectrum Hemp Extract (standardized for 25mg cannabidiol [CBD]), Evening Primrose Oil (Oenothera biennis) (seed) Gamma Linolenic Acid, 5-HTP (L-5-Hydroxytryptophan) (from Griffonia simplicifolia seed extract), Chaste Tree Berry Extract (Vitex agnus-castus L.) (standardized for 2% flavones), L-Tyrosine, Black Cohosh Root Extract (root, rhizome) (Cimicifuga racemosa L.), Vitamin D (as cholecalciferol)
Other ingredients: Kosher bovine gelatin, sunflower seed oil, glycerin, medium chain triglycerides oil from coconuts, yellow beeswax, purified water and sunflower lecithin, sodium-copper chlorophyllin.
Contains hemp-derived CBD with less than 0.3% THC.
Size: 90 Soft Gels (90 Servings)
Take 1 soft gel daily in the morning or evening with food. Be sure to not take Happiness on an empty stomach.
An additional serving can be taken for stronger mood supporting benefits.
For maximum hormonal health and neurotransmitter support benefits Happiness should be taken daily for a minimum of 30 days.