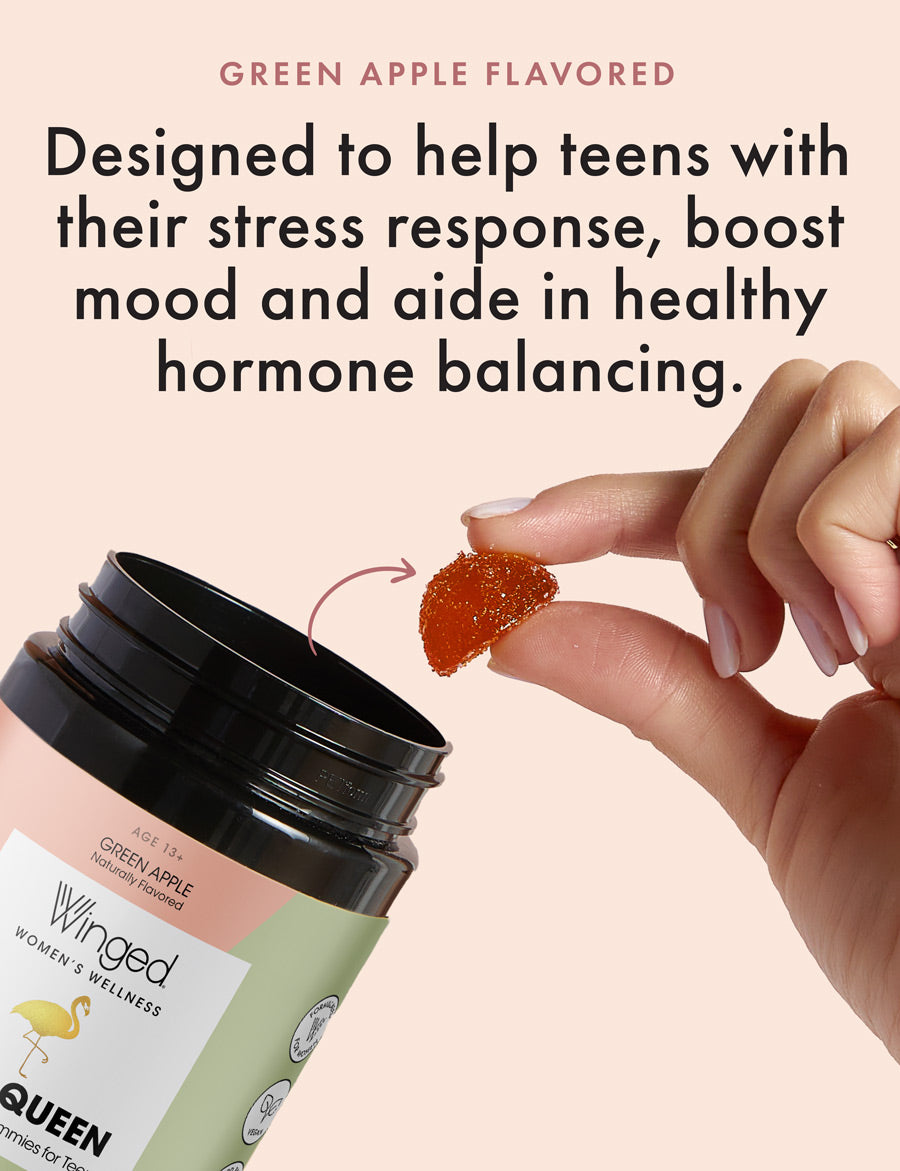 Teen Queen Stress & Mood Support Gummies
a comprehensive formula for teens addressing hormones, mood, and focus
3 Reviews
Based on 3 reviews
Teen Queen vegan gummies offer multi-nutrient support for women in their teen years. This comprehensive formula tackles hormonal changes, low mood and anxiousness, and difficulty focusing through a holistic blend of herbs and nutrients. Chaste Tree addresses hormonal fluctuations that can occur during teen years and works to balance the highs and lows that may cause low mood.
Lemon Balm and L-Theanine offer additional support by easing mental tension and supporting a healthy stress response. Focus can be a challenge during teen years, so Vitamin B12 and Huperzine A, an herbal extract, are included to support energy and cognition.
Finally, healthy skin is promoted by the Bacillus Coagulan MTCC 5856 probiotic strain, and hair and nail health by Biotin.
Ingredients: Chaste Tree Berry Extract (vitex agnus-castus L.), L-Theanine, Lemon Balm Extract (Melissa officinalis), Probiotics (Bacillus coagulans MTCC 5856), Huperzine A (Huperzia serrata), Vitamin B12, Biotin, Zinc.
Other Ingredients: Organic Cane Sugar, Organic Tapioca Syrup, Pectin, Citric Acid, Sodium Citrate, Natural Flavors and Natural Color (Red Lycopene).
Size: 1 Bottle of 50 gummies (25 servings)
Take 2 gummies daily. We recommend getting on a good routine by taking the gummies in the morning with breakfast every day.
A second serving can be taken in the afternoon or evening if she needs a mood boost or help concentrating while studying.
Mood, energy and focus benefits begin 30-60 minutes after taking a serving, but long-term hormonal balance may take up to 30-60 days of regular use for the full benefit.