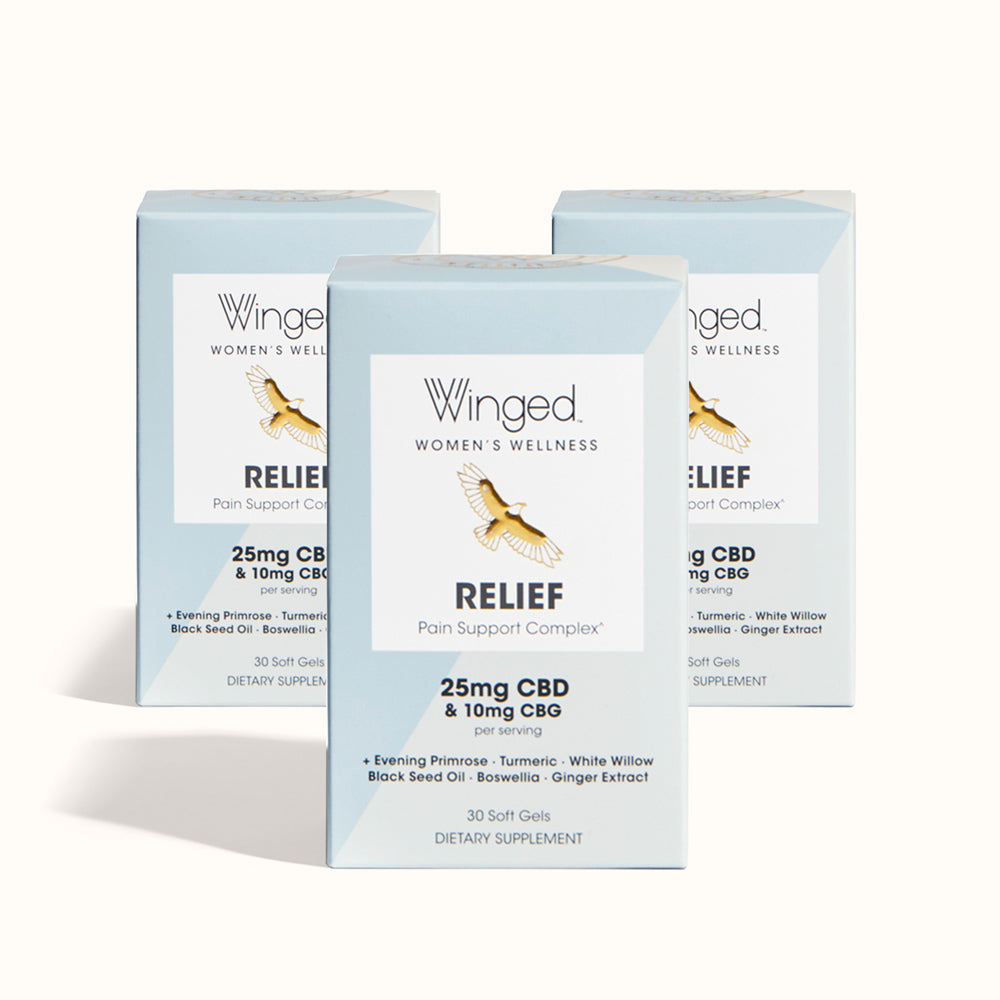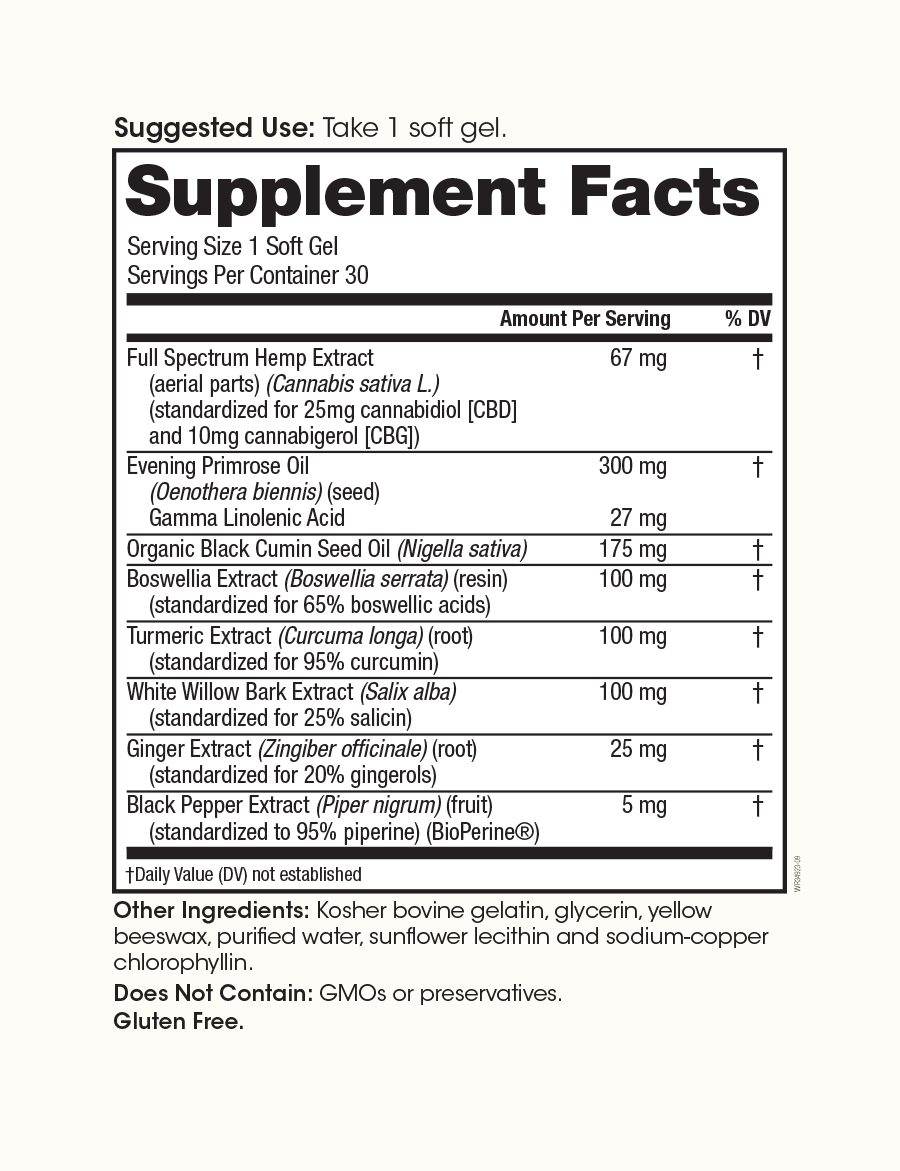 3-Pack Relief Pain Support CBD Soft Gels
ease discomfort for joints, PMS, and beyond
126 Reviews
Based on 126 reviews
Women experience pain more often and more intensely than men. From acute symptoms like cramping, breast or back pain during menstruation, to female-specific chronic conditions that affect our joints and muscles, sometimes we need a little help. Relief Soft Gels are an all-natural, comprehensive blend of female-specific nutrients to support physical discomfort relief.
Powered by high-dose CBD & CBG from full-spectrum hemp extract, these cannabinoids promote a healthy inflammatory response and relief from physical discomfort throughout the body. Boswellia and White Willow have been used for centuries in natural health systems because they contain safe, non-addictive compounds that dull pain from achy or inflamed tissues.
Concentrated extracts from Turmeric, Black Seed Oil, Ginger, and Black Pepper Extracts boast powerful antioxidant protection to support a healthy inflammatory response and help "put out the fire" we can feel throughout our bodies. These nutrients have a dual purpose in the formula as well – they have been shown to support a healthy digestive tract, one of the main complaints of women using OTC products. Evening Primrose Oil has been shown to relieve physical discomfort during PMS.
Live life without limitations - because when a woman feels good, she's unstoppable!
*This product comes at a special value price and cannot be combined with any other discounts.
Active Ingredients: Full Spectrum Hemp Extract (aerial parts) (Cannabis sativa L.) (standardized for 25mg cannabidiol [CBD] and 10mg cannabigerol [CBG]), Evening Primrose Oil (Oenothera biennis) (seed) Gamma Linolenic Acid, Organic Black Cumin Seed Oil (Nigella sativa), Boswellia Extract (Boswellia serrata) (resin) (standardized for 65% boswellic acids), Turmeric Extract (Curcuma longa) (root) (standardized for 95% curcumin), White Willow Bark Extract (Salix alba) (standardized for 25% salicin), Ginger Extract (Zingiber of_cinale) (root) (standardized for 20% gingerols), Black Pepper Extract (Piper nigrum) (fruit) (standardized to 95% piperine) (BioPerine®)
Other Ingredients: Kosher bovine gelatin, glycerin, yellow beeswax, purified water, sunflower lecithin and sodium-copper chlorophyllin. Contains hemp-derived CBD with less than 0.3% THC.
Size: 90 Soft Gels (90 Servings)
Take 1 soft gel as needed for short term pain relief* or chronic physical discomfort.
A double serving can be taken for intense discomfort, up to three times daily. Relief may take up to 60 minutes to begin working and the benefits often last 6-8 hours or longer.
For maximum benefits to support a healthy inflammatory response, we recommend taking Relief daily for a minimum of 30 days.